D.O.B - 30th November 1998
L2-Hga Clear
HC - Clear

Rev is the ruler of the household, she has a gorgeous temperament,
outstanding movement, great body and topline, feminine head and lovely pigment.
Rev has produced one Champion, with another needing only one Challenge for her title,
and with 4 pups from her last litter being shown,
we are hoping for some more champion kid for Revvy!

Rev's Show Highlights -
Stafford Bull Terrier Specialty Shows
Rev has been placed at EVERY Victorian Stafford Specialty Show she has been eligible for except for once where she was in season and not a happy girl.....

*1999* 4th Place in Baby Puppy Bitch Class - SBTCV Champ Show
- Judge Miss J McDonald (Vic)
*2000* 5th Place (17 Entries) - SBTCV Champ Show
- Specialist Judge Mr N Berry (UK)
*2000* Best White - SBTCSA Champ Show
*2001* Intermediate in Show, Reserve Challenge Bitch & Best Gaited Bitch
- SBTCV Champ Show - Specialist Judge Mr W Bore (Qld)
*2002* 5th Place (12 Entries) - SBTCV Champ Show
- Specialist Judge Mrs C Lee (Constones Staffords - UK)


All Breeds Shows
Rev makes a splash at Melbourne Royal 2003!
Winning Open Bitch Class
Bitch Challenge
AND Runner Up to Best of Breed!!
with approx 120 Staffords entered!

Runner Up to Best Exhibit in Group (Open Show)
10 Class in Group (Champ & Open)
7 Challenges
1 Best of Breed
6 Runner up to Best of Breed
2 Reserve Challenges at Stafford Point Score Shows
2nd Place in Puppy Bitch Class - Melbourne Royal 1999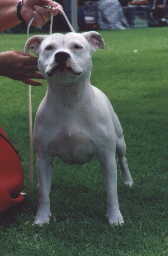 Aust CH Hadjibah Hanky Panky
(Black/White)

Aust CH Borstaff Hanky Bannister

Keltarjess Mighty Mouth

Borstaff Peachesncream

Aust CH Borstaff Blacknbewtiful

Jehard The Arapaho

Aust CH Borstaff Betty Bobbitt

Powerhouse Modern Art

Aust CH Hadjibah High Voltage


Aust CH Borstaff Hanky Bannister

Aust CH Hadjibah Joy Division

Enroche Snow Bunny

Aust CH Boldhart Dingus Magee

Enroche Hankys Honey